How educational institutions can use a marketing funnel
Universities are under more pressure than ever to attract prospective students, with many considering other options; for example, government-backed apprenticeship schemes are often seen as a cheaper, quicker route into the job market. Whereas once the challenge was just to justify why students should come to your university instead of others, now there is also the need to justify why students should attend university at all. Brexit has also had a significant impact on the university sector, as it relies on the recruitment of international students and academics.
With university applications dropping by 11,000 compared to last year, several trends have emerged in university marketing tactics:
Focusing on brand identity.
Innovative social media content.
Taking an international focus.
Highlighting opportunities for real-world experience.
One wider strategic tool universities can implement is utilising a marketing funnel to track the journey potential students take from considering University to enrollment.
What is a marketing funnel?
Traditionally, a marketing funnel is a way of monitoring the steps a customer takes to purchase a product or service, from how they are made aware of the product to their final decision to purchase it. The reason for the "funnel" analogy is that a lot of customers can start the buying journey, however, many opt out at each stage of the process (the funnel gets narrower).
Marketing funnels are so effective as they can be precisely monitored to highlight problem areas. For example, a company may notice that a lot of potential customers are exiting the funnel at the consideration stage. Upon reviewing this, they may want to revise how they are positioning themselves against competitors, and how they communicate their values to potential customers.
There are two common tactics for driving sales utilising a marketing funnel:
Widening the funnel by running campaigns to increase awareness: statistically, by having more people enter the funnel, the more sale conversions will be made.
Focusing on the transitions between each stage of the funnel: by focusing on driving leads from stage to stage (e.g. nurturing leads via email to guide them into consideration), fewer customers drop out during the buying process.
A typical marketing funnel would look like this: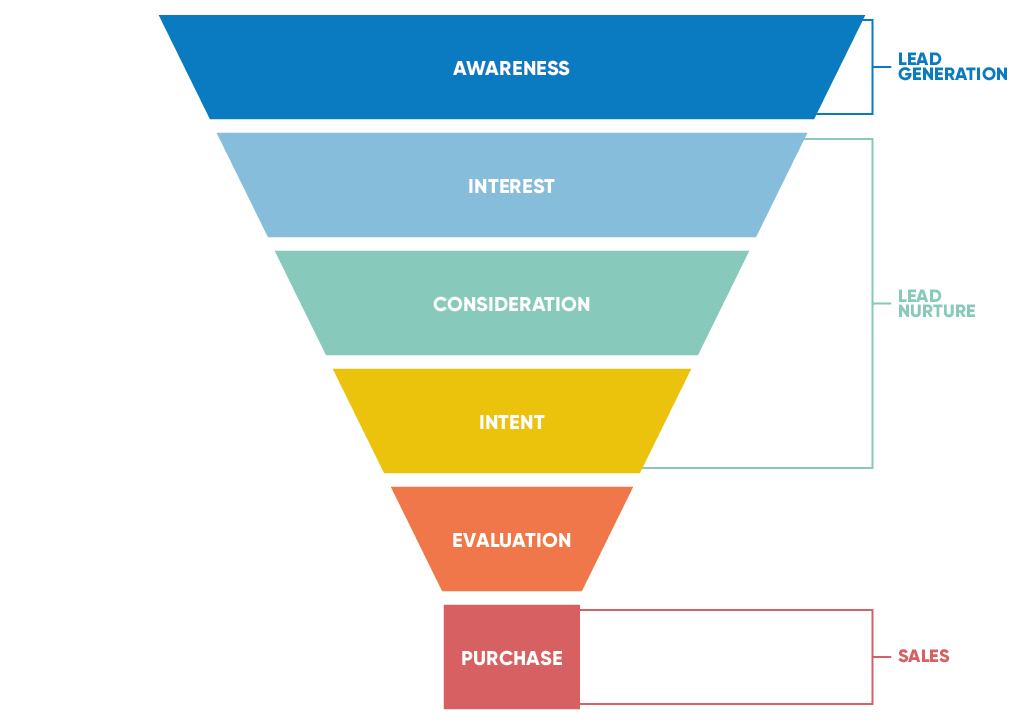 Let's break down each section of the funnel:
Awareness: Often, customers begin the buying journey to solve a problem. Awareness is the uppermost stage of the marketing funnel. Potential customers are drawn into this stage through marketing campaigns, consumer research and discovery. Trust and thought leadership is established with events, advertising, trade shows, content (blog posts, infographics, etc.), webinars, direct mail, viral campaigns, social media, search, media mentions, and more. Here, lead generation takes place, as information is collected and leads are pulled into a lead management system for nurturing further down the funnel.
Interest: Once leads are generated, they move on to the interest stage, where they learn more about the company, its products, and any helpful information and research it provides. Here is an opportunity for brands to develop a relationship with the people in its lead database and introduce its positioning. Marketers can nurture leads through emails, content that is more targeted around industries and brands, classes, newsletters, and more.
Consideration: Now that the buyer is in the middle of the funnel, they will start considering a brand's product/service against competitors. The time spent in this stage will vary significantly depending on the conversion value. High-ticket purchases with multiple stakeholders involved in the decision-making process will spend a lot of time here. Marketers can send prospects more information about products and offers through automated email campaigns while continuing to nurture them with targeted content, case studies, free trials, and more.
Intent: To get to the intent stage, prospects must demonstrate that they are interested in buying a brand's product. This can happen in a survey, after a product demo, or when a product is placed in the shopping cart on an e-commerce website. This is an opportunity for marketers to make a strong case for why their product is the best choice for a buyer.
Evaluation: This is a culmination of the previous steps. The buyer determined they had a problem, researched possible solutions, deciding on the best option, and are now ready to make the purchase.  This is all about tipping the customer over the buying cliff. Case studies and customer success stories work well in this stage.
Purchase: The final stage of the funnel is the customer committing to the purchase. Whilst this is the final stage of the funnel, the customer's journey extends beyond this, as the way that they are interacted with after purchase contributes to their experience with the brand. A positive experience on the part of the buyer can lead to referrals that fuel the top of the marketing funnel, and the process begins again.
How Universities Can Use Marketing Funnels
A funnel system can be a great framework for tracking the steps prospective students take to enrol at a university and identify problem areas. A common problem in enrolment marketing is placing too much focus on promotion, and gathering a large number of leads, without making enough effort to nurture these leads. Using a funnel model to nurture these leads allows institutions to retain quality prospects, as well as efficiently utilise resources where they will have the greatest impact. It is important, however, not to take the funnel model as a strict set of steps, as not all students will move through the funnel in the same way; prospects can enter at different points, move through at different speeds, and not all enquiries reflect the same level of interest, timeliness, or suitability for admission.
For this reason, it is important to evaluate the quality of prospective students during enrolment. Of course, this qualifying process will differ between institutions, as a "quality student" does not necessarily mean the same thing for each university. This allows marketing teams to make smarter choices about how to communicate with different types of prospects. More to the point, it can concentrate limited staff and marketing resources on those segments that are likely to generate the highest conversions (to the next stage of the funnel) and yields (conversion to enrolment).
To give some practical examples, here are the forms of communication universities can use at each stage of the funnel:
Awareness
Paid Advertising
Lead Generation
SEO/SEM Campaigns
Social Media
Events
Direct Mail
Interest
Educational Material
Email Campaigns
Targeted Content
Consideration
Lead Nurturing
Validation from Current/Past Students
Course Information
Campus Life
Intent
Course Content Examples
Smooth Enrolment Process
Reactive Nurturing
Evaluation
Sales Collateral
Presentations
Concrete Statistics/Success Stories
Purchase
Enrolment Completed
Communications Maintained in the Build-up to Start Date
Referrals Create New Leads
Full-funnel Strategies
Google Ads
Generating awareness by positioning your University as the solution to the problem can be greatly assisted by Google Ads campaigns. For example, an 18-year-old might search for "how to become a Civil Engineer", and by running Google Ads campaigns, you can make sure a Civil Engineering degree at your University is listed as a top search result.
As well as generating awareness, Google Ads is a strong tool for tackling the "consideration" section of the funnel. At this point, students may have committed to the decision to go to University, and even decided on a course, and so will comparing which University to go to. By running Google Ads campaigns, you can make sure that you rank highly when students search for things like "best University for Architecture".
At the bottom of the funnel, Google Ads tends to be more relevant to low-ticket purchases, however, is still worth mentioning. If a student has decided to study a course at your University, it's important that when they search for "enrol at the University of X", they are met with the appropriate results. Whilst failing to do so isn't going change their mind, as it is such a big decision, it's still important to make each stage of the funnel as smooth and user-friendly as possible.
Social Media
Social media is particularly effective for Universities, as it allows them to communicate with potential students on a platform they consistently use. When driving awareness, Universities can use social media ads to raise awareness without going straight in for the hard-sell. Ads can be general enough to appeal to a wide range of readers but tap into a specific problem of the target audience.
Social media can also be effective for retargeting campaigns, which work by tracking when prospects visit your site and then displaying relevant ads to the same user when they are on the platform. As prospective students are considering their options at this point, existing or past students' voices can add real value to these ads.
Another powerful tool within social media is influencer marketing. Generally seen in B2C marketing, influencers can actually be effective in enrolment campaigns. Many universities will actually have influencers amongst their current or past students, and these can be a great way of communicating with prospects via a trusted voice their own age. For a less direct influencer campaign, universities can partner with local influencers to promote the area they are in, focusing on the lifestyle aspect of university life.
Content Marketing
Content marketing is a popular strategy because, when done right, it is generally cheaper than Pay-Per-Click (PPC) and helps nurture leads by building trust. With content, you gradually position your brand as a credible go-to resource.
One piece of content can stick to the top spot of Google for years, bringing in leads on autopilot with no further investment needed. This can have compound effects as your domain authority increases over time.
When you consider that most prospective students refer to Google results several times throughout the enrolment journey, it's obvious how powerful it is to create content that targets different audiences at different stages of the funnel. At the top of the funnel, content marketing can be used to support AdWords campaigns aimed at answering prospective students; for example, a University could publish a blog titled "The Career Path of a Clinical Psychologist", in which their own Psychology course is included, but isn't the complete focus.
Content can become more focused as the funnel narrows and can include information about course content, or even useful guides to aid students to enrol.
Email Marketing
Email marketing has the highest ROI of any tactic listed so far, and can be used effectively to market to leads at any stage of the funnel. While it isn't likely to be a first touch, email can be used to deliver educational content that helps leads solve specific problems, and nurtures them.
At the top of the funnel, open rates should be the priority, in order to generate more leads to push down the funnel; this means delivering engaging content that doesn't seem to intent on pressuring the prospect to make an enrolment decision.
Middle-of-the-funnel email marketing should focus on generating educational value, as well as pointing the lead straight to the benefits of enrolling at your university, making the evaluation stage easier.
Towards the bottom of the funnel, email marketing can become more and more direct; if the lead has been successfully nurtured, this kind of email should make it easy for the prospect to commit to a decision.
Direct Mail
Taking a step away from digital, one of the most effective educational marketing strategies is direct mail. In Gen Z's quest for authenticity, a physical letter carries much more weight than a social media post. Attaching a figure to this, over 87% of consumers said they trust the message in direct mail, while only 48% trust that of email marketing.
High-quality information packs or prospectus' can be an effective way of engaging with prospective students at any stage of the funnel. Whilst printing and delivery costs can be offputting, direct mail offers much higher engagement than digital media; whilst students might scroll past hundreds of emails and social media posts every day, people rarely ignore physical letters or packages.
As a full-service marketing agency, Level has the capability to develop, integrate and manage comprehensive marketing strategies, no matter what type or size your organisation may be. Get in touch with us today, we'd love to hear from you!